Reno Student Housing
Strategic 1031 Properties
Investment Highlights
Overview
Strategic 1031 Reno Student Housing is an investment into a newly constructed student housing apartment complex located in Reno, Nevada. The property is marketed to students at the University of Nevada - Reno. The property has a total of 709 beds and was built in 201
Year 1 Cash Flow 5.19%
Initial Occupancy 99.30%
Est. Time Horizon 7 years
Yr 1. Cap Rate to Investors 5.11%
Investor Purchase Price $77,900,000
Total Offering Size $42,900,000
Loan Information
The loan totals $35,000,000 and is from KeyBank National Association. The term is for a total of 7 years with the first 3 years being interest only. When amortization begins it is based on a 30 year schedule. The interest rate is fixed at 3.83%.
Yr. 1 DSCR 2.89
Loan-to-Value 44.93%
A third party company that collects data on student housing properties notes that properties within 1 mile of campus have seen rent growth of 3.1% per year.
The same third party company states that University of Nevada is in the top 10 for annual effective rent growth.
The property was newly constructed in 2016 and therefore has less likelihood of needing capital expenditures to maintain the property.
The property is well located and is within walking distance of campus. As an added bonus there is a shuttle stop outside of the property that takes students to campus.
The University of Nevada Reno has been experiencing enrollment growth. This growth is projected to continue in the future.
There are no competing student housing complexes currently being developed near the university.
The sponsor has projected rent growth to be 5.54% between year 1 and 2 which is an aggressive assumption. However, the University of Nevada Reno has been ranked as one of the top 10 schools for rent growth.
The cap rate to investors is low (5.11%).
About Strategic 1031 Properties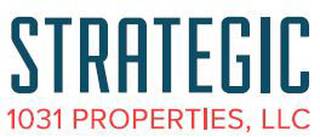 According to the sponsor's website: "Strategic 1031 Properties, LLC is a Delaware limited liability company that is owned by SmartStop Asset Management, LLC.
SmartStop is a diversified real estate company focused on self storage assets, along with student and senior housing. The company has more than $1.3 billion of real estate assets under management, including 108 self storage facilities located throughout the United States and Toronto, Canada, comprised of approximately 68,000 units and 7.9 million rentable square feet. SmartStop's real estate portfolio also includes three student housing facilities with approximately 1,735 beds and 610,000 square feet of space."