Net-Leased Portfolio 25
ExchangeRight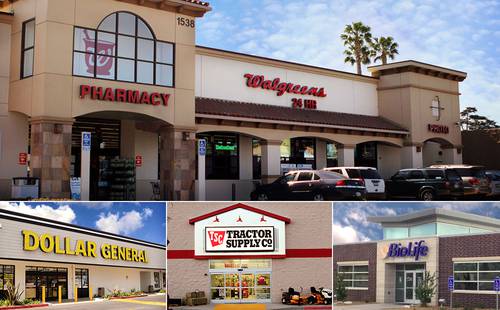 Investment Highlights
Overview
This offering will purchase twenty-one freestanding properties located across ten states and tenanted on net lease terms by seven companies. The properties are in Wisconsin, Minnesota, Louisiana, South Dakota, Ohio, Florida, Virginia, Texas, Indiana, and Missouri. The tenants are Walgreens, Tractor Supply Company, Hy-Vee, Hobby Lobby, Family Dollar, Dollar General, and Bio-Life.
Year 1 Cash Flow 6.15%
Initial Occupancy 100.00%
Est. Time Horizon None
Yr 1. Cap Rate to Investors 5.64%
Investor Purchase Price $95,071,500
Total Offering Size $42,790,000
Loan Information
The loan is a 10-year term, all interest-only and set at 4.63% rate.

The lender included a cash sweep provision if the debt service coverage ratio drops below 1.45. During the cash sweep period, the lender will take all excess cash (defined in the loan documents) on each payment date. For the cash sweep to cease, the debt service coverage ratio must exceed 1.55 for two consecutive quarters.
Yr. 1 DSCR 2.16
Loan-to-Value 54.99%
This offering provides significant diversification with properties in 10-states and 7-tenants.
Sixteen of the twenty-one properties are leased to tenants who are either investment grade or with the lease-backed by investment grade tenants.
Scheduled rent increases during the hold and option periods.
The average lease term has an 11.7-year weighted average.
Low CAP rate (5.64%) which is near the breakeven CAP rate (5.57%). With a traditional sale, annual rent increases may no make up the load. ExchangeRight plans to implement a portfolio aggregation across their offering to capture the best value for their investor through a REIT sale, merger, or listing.
The sale price of each property will reduce as leases terms fall below ten years remaining. There is no guarantee that tenants will renew their lease at the end of the term. The risk is mitigated by a potential sale of the offering before the 10-year mark.
The loan is interest-only for the entire term. (Interest-only debt payments are typically preferred by REIT buyers, which may help facilitate ExchangeRight's exit strategy.)
Four of the property's lease terms expire before the 10-year mark which would negatively affect the sales price of the property.
The properties in this offering are in multiple states, which may require investors to file multiple state tax returns.
There is a potential conflict of interest because some partners of the Sponsor are also principals of Lighthouse Capital Group.
About ExchangeRight

According to the sponsor's website: "ExchangeRight Real Estate, founded in 2012, is a private real estate investment firm focused on the acquisition and management of single-tenant properties throughout the United States. With over $1.2 billion in assets under management diversified across 425 properties in 28 states, we focus on investment-grade, necessity-based retail and Class B/B+ value-added multifamily.
We believe that investors deserve an investment strategy that provides them with stable cash flow, capital preservation, and value-added return potential in the face of uncertain economic and financial conditions. We have implemented a strategy designed to directly address this so that we can preserve our investors' capital and provide attractive income on their capital until the timing is right to execute a strategic exit to maximize their returns."